How 2 Use Marinade Injector?
How 2 Use Marinade Injector?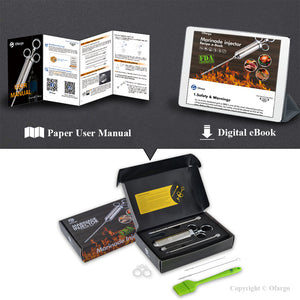 It's easy to inject marinade into meat injector. 

Step 1: Clean and Smear Food Oil Before Use
Before your first use, please wash all components gently by using a dime-sized amount of dishwashing liquid and warm
Water or on the top rack of dishwasher for cleaning. Then smear a thin film of food oil (like canola, olive oil) around the inside of injector barrel whenever you use it for lubrication, otherwise the plunger will be very hard to push! (Download PDF eBook Page 9 for details)
Step 2: Load Marinades into Injector (2 Methods)
2 types of filling your marinades: A) choose suitable needle and screw it on injector barrel, then put needle tip into your marinade container and draw the marinade up into the barrel chamber by pulling the O-ring handle like doctor taking an injection. B) screw needle clockwise onto injector barrel until needle O-ring is tightened, then unscrew the plunger assembly top cap, and fill the barrel with your marinade by pouring or spooning-in. (Download PDF eBook Page 12 for details)
Step 3: Tricks of Injecting Marinades
Oil your meat needle-> Map Your Injection Points -> Limit the Number of Entry Points -> Keep Your Needle In The Meat -> Parallel Injection & Plunge While Pulling-> Apply Pressure Steadily. (Download PDF eBook Page 18 for details)
Step 4: O-Ring Replacement Skill (Optional)
Whenever you wash or replace plunger big o-ring, you might find it hard to remove it off plunger. Here is a skill. Follow our illustration steps, you will find it so easy! (Download PDF eBook Page 28 for details)
Do you want Ofargo Digital eBook? Just email us at info@ofargo.com. We'll be there for you!